1- What is the LPO?
The LPO (League for the Protection of Birds) is today one of the leading associations for the protection of nature in France, acting daily to safeguard biodiversity, beginning with its vocation, the protection of birds.
The LPO was created in 1912 to put an end to the massacre of puffins in Brittany. This marine bird has since become the organisation's symbol. The LPO was recognised as a public utility in 1986.
In the same year  Allain Bougrain-Dubourg became president of the LPO Since then the LPO has continued to develop, multiplying its activities throughout the territory of France, working continually to "protect birds and the ecosystems on which they depend".
Today, the LPO consists of:
45,000 members who receive a six-monthly bulletin LPO INFO.
35,000 subscribers to the magazines L'OISEAU and L'OISEAU Junior, a special publication on birds of prey of France (RAPACES de France) and a specialised ornithological periodical ORNITHOS.
5,000 active volunteers
The LPO is present in 21 regions:
-35 local associations
-11 groups
-10 offices
-7 rescue centres, one office and 2 mobile care units
-10,400 LPO refuges (16,400 ha)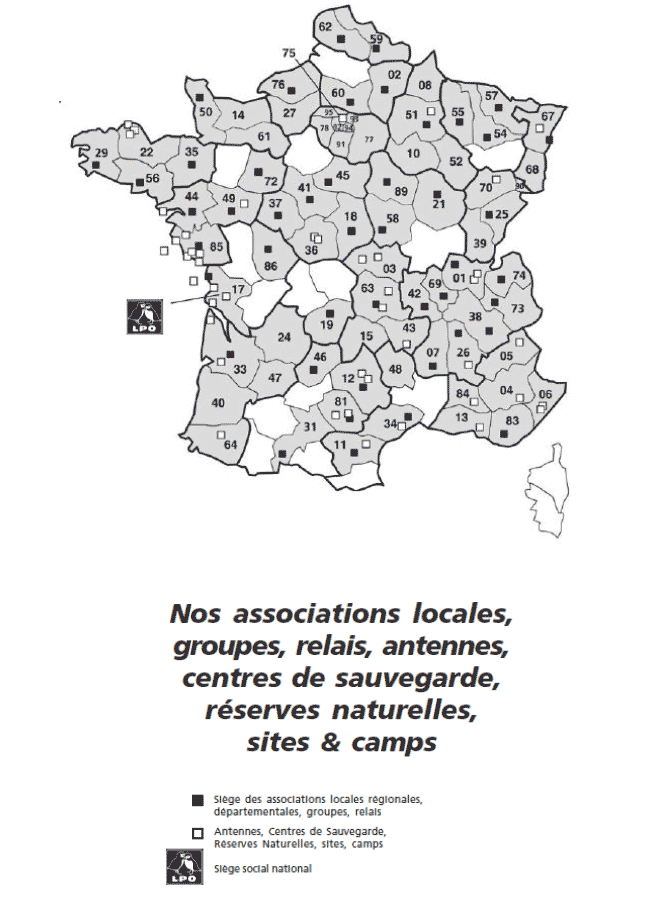 With its network of local associations, the LPO manages (figures are for 2013):
23,219 ha (on 171 sites) consisting of :
1,695 ha (on 60 sites) owned
17,722 ha (on 40 sites) managed
3,104 ha (on 69 sites) managed under covenant
13 national natural reserves (14,542 ha)
10 regional natural reserves (2,388 ha)
First managed site: natural reserve of Sept-îles
Biggest managed site: natural reserve of Moëze-Oléron (6 812 ha)
4,650ha farmed by 316 agriulturalists
The LPO is the French representative of BirdLife International, the global alliance which unites more than a hundred associations for the protection of nature with a total membership of 2.3 million worldwide.
Since 2009, the LPO headquarters has been in the building of the Royal Foundries. The building was constructed in 1688 and has been restored according to an ecologically responsible architectural model.
With its 45,000-strong membership and 5,000 volunteers, the LPO is today one of the leading associations for the protection of nature in France.
2- The Group ''LPO 41''

2.1 Who are we?

300 members
Around 20 volunteers
92 private refuges
7 refuges run by institutions
The group LPO 41 was founded in 2010 by Didier Nabon. Today the LPO in Loir-et-Cher has around 300 members and Didier Nabon is their delegate, supported by some twenty volunteers.
Members of the Bureau
André Peschard, Armel Guillier, Bernard Mesjan, Didier Nabon, Gérard Révolte, Henry Borde Jean-François Neau, Patrice Margat, Thierry Normand
Members of the Steering Committee:
Alain Callet, Annick Bompays, Annick Royer, Didier Loyer, Ewa Jankowska, Jean-Pierre Doreau, Jean-Pierre Martinez, Martine Neveu, Michèle Biver, Patricia Margat, Odile Fève, Peggy Daubignard.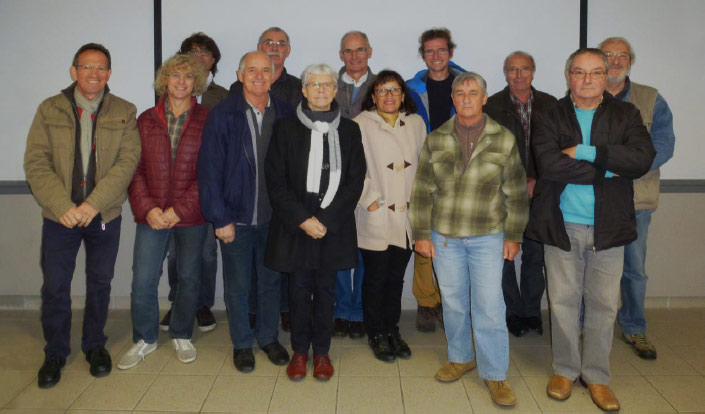 2.2 What is an LPO refuge ?

An LPO refuge is a public or private space on which the owner has committed to respect the Refuges Charter.
Its owner encourages biodiversity through the amenities provided and by good management practices.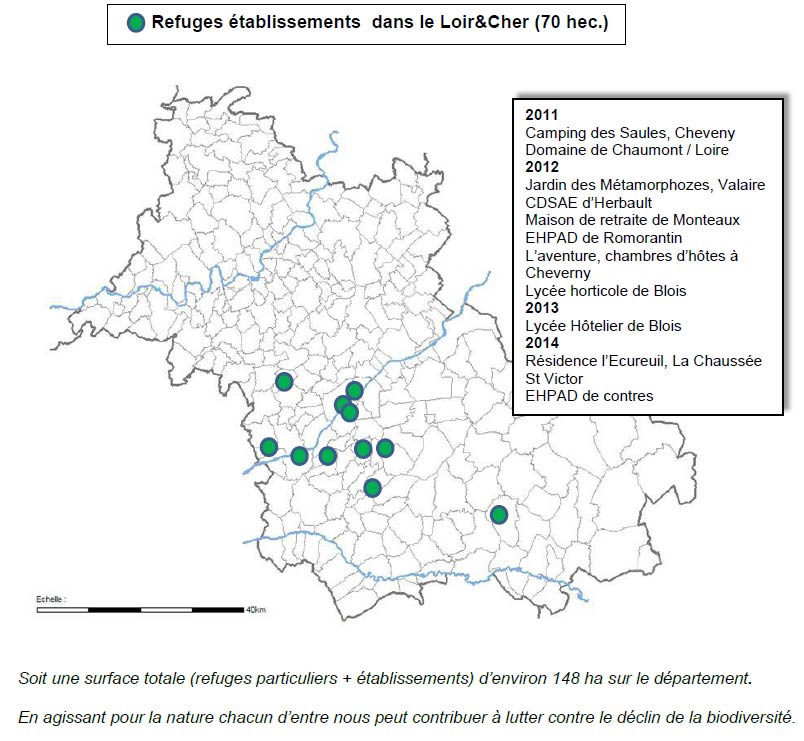 Son propriétaire accueille la biodiversité par des aménagements et des bonnes pratiques de gestion.
2.3 The need to protect and develop biodiversity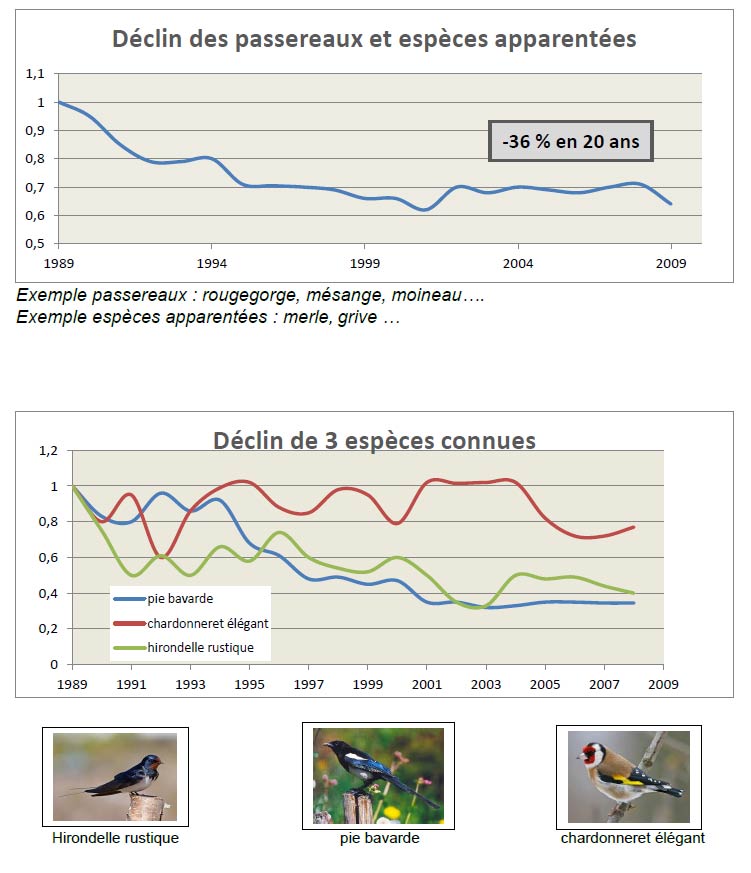 List of refuges managed by establishments in Loir&Cher
Date of the covenant
Date of renewal
Name
Commune
Manager/contact person
Adress
Proportion of total area of land taken up by refuge
Surface area (in square metres)
02/05/2011
Jardin de Chaumont
Chaumont
MmeColleu-Dumont Chantal Mme Emanuela Fréalle
Domaine Régional de Chaumont sur Loire
Parc du Domaine
166729
12/05/2011
00/00/2015
Camping des Saules
Cheverny
M. Cherrier Laurent
Camping les Saules, les Saules, 41700 Cheverny
toute la propriété
80000
04/02/2012
Les Métamophozes
Valaire
Mme Le Gall-Gallou de Terruel
3 le Prieuré 41120 Valaire
toute la propriété
7700
2012
MARPA de Monteaux
Monteaux
Mme Lecomte Michelle
MARPA Pierre FOUQUET-HATEVILAIN 14, rue de l'Abbé Pitié 41150 Monteaux
toute la propriété
1500
23/02/2012
00/00/2015
CDSAE d'Herbault
Herbault
M. Pecker Sébastien (directeur adjoint)
CDSAE du val de Loire 3, rue de la Forge41190 Herbault
toute la propriété
288648
04/06/2012
EHPAD la Salamandre  de Romorantin  (Association AGGEVIE)
Romorantin
M. Avenière
26, Mail des platanes  41200 Romorantin Lanthenay
toute la propriété
18000
29/10/2012
La Closerie de l'Aventure
Cheverny
Mme Maslard Pascale
2 chemin Canetterie La Closerie de l'Aventure 41700 Cheverny
toute la propriété
60000
14/11/2012
Lycée Horticole de Blois
Blois
Mme Darjo Patricia (Directrice)
5-7, rue des Grands Champs 41029 Blois CEDEX
toute la propriété
66921
07/06/2013
Lycée des metiers d'hôtellerie et du tourisme
Blois
M. Abatte (proviseur) M. Luglia Rémy
174, rue Albert 1er 41000 Blois cedex
toute la propriété
1000
03/01/2014
Résidence l'Ecureuil
La Chaussée St Victor
M. Albert Jean-Louis Jean pierre Klapczynski (Responsable Vie Sociale Animation)
3, rue des grèves 41260 la Chaussée St Victor
toute la propriété
8000
22/07/2014
EHPAD le Grand Mont
Contres
Mme Pointet Christine  (Directrice) Adeline Cahier Anne Marteau
8, avenue de Sologne 41700 Contres
toute la propriété
20000
IME les Basses Fontaines
Crouy-sur Cosson
M. Jean-Luc Améaume
Les Basses Fontaines, 41220 Crouy-sur-Cosson
toute la propriété
SAAJ Cellettes établissement pour adultes handicapés dépendant de l'ADAPEI Papillons Blancs
Cellettes
Mme Danielle Hubert-Cars   (éducatrice)
23 rue de Beauregard Cellettes
collège Joachim du Bellay
Montrichard
Mme Hélène Hamelin
03/02/2016
Particulier
Saint Julien sur Cher
M. Arnaud Vatinel
Les Gravouilles Saint Julien sur Cher
toute la propriété
51090
Particulier
Chaumont sur Loire
M. Frédéric Pichery
6 rue des Arnaises 41150 Chaumont sur Loire